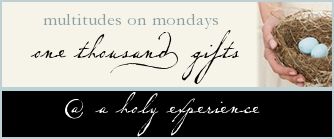 866. Hands lifted in praise
867. Learning about missionary work in Malaysia
868. That my children were inspired by the Malaysia presentation to consider mission work
869. Whistling tea pots
870. Playing SkipBo with friends
871. Antique beds
872. Bradford pear trees in bloom
873. Pussy willow trees
874. Historic town squares
875. Our friend graciously offering to pick up dinner for our children while we were prepping for a concert
876. Oatmeal raisin cookies
877. Handwritten memories that touch the heart
878. Surprise discounts
879. Sea dragons at the Aquarium
880. Trying new foods in a different region of the country
881. Seeing an underground waterfall
882. Tour guides with a sense of humor
883. Dry snow that swirls and twirls in the chilly air
884. Hot coffee on a cold hike
885. Sweet tea
886. Free laundry detergent at the hotel
887. The preservation of history through diaries and letters
888. Coke floats
889. The nice man with the telescope...
890. ...who let us see a baby eaglet in its nest...
891. ...while the beautiful and protective mama eagle looked on
892. That she loves to name all of the animals she encounters
893. The imaginative names she comes up with
894. Spice cake with creamy frosting
895. Morning sun streaming in the window
896. How easily they meet and befriend other children
897. The gracious welcome we received into their homes
898. Hearing their giggles upstairs
899. Sweet, endearing little puppy faces
900. Boys watching basketball on tv
901. Hearing their running commentary on the game
902. Those who are willing to listen
903. Late morning flights
904. Moving walkways when you are laden with luggage
905. When all the checked bags arrive
906. Walking in the front door
907. The smell of home
908. Fuzzy bathrobes...
909. ...familiar coffee...
910. ...the comforts of home