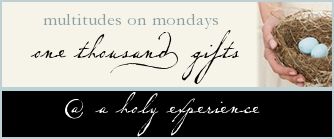 1116. A next-day appointment with the specialist
1117. Being awakened at 5:56 a.m. with an excited whisper..."Mom!!!"
1118. Holding her hand as we tiptoe downstairs to look out the window
1119. Snow on the valley floor!
1120. Going back to bed knowing we can sleep in (no school!)
1121. The kids' "No School Because of Snow" dance!
1122. Hot chocolate with extra marshmallows
1123. Eaves lined with icicles
1124. Choosing just the right Christmas tree
1125. Watching the children decorate the tree
1126. Going outside in sub-zero weather, just to feel what that is like!
1127. A toasty warm house to retreat to!!!
1128. That our pipes didn't freeze
1129. Beautiful sunsets several days in a row
1130. Walking together in the snow