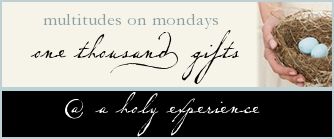 361. Listening to the distinctive bark of a sea lion
362. Laughing until my stomach hurts!
363. Fuzzy bathrobes
364. Receiving surprise gifts from a friend
365. Visiting with friends we haven't seen in a long time
366. Hearing him talk so excitedly about his first time riding quads with his friend
367. The kind of friends he chooses to hang out with
368. The sweet "I love you" note (with pictures!) that she slipped me during church on Mother's Day
369. How cute she looked in her costume for the play
370. Watching a friend stand tall in her faith during a difficult situation
371. Ice cream parties in the park!
372. Restful weekends
373. When a friend comes right over to fix a leaking sink
374. A brand new faucet!
375. Underground parking on a rainy day