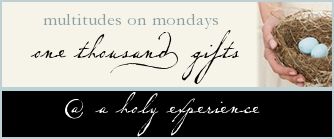 1076. A principal with an open door policy
1077. That she stood strong in the face of a threat because she knew the truth and wasn't afraid
1078. Family portraits under an old oak tree
1079. Playful puppies in the pet shop window
1080. Cotton clouds stretched low across the foothills
1081. Having peace about a hard decision
1082. A sunny afternoon at the pumpkin patch
1083. Tromping through the corn maze
1084. Hay rides
1085. A big hug from my friend Jacque at
Mercy Found Me
1086. Safe landing in Greenville, SC
1087. Discovering I was the hotel's "Guest of the Day"
1088. When he texts me to let me know he's praying for me
1089. Allume 2013
1090. Receiving a long awaited answer to prayer...
1091. ...and the answer was more than I asked for
1092. Family Fun Night at church
1093. A flock of wild turkeys
1094. Speckled feathers
1095. Watching my son earn his black belt in Taekwondo
1096. That he avoided serious injury during the four hour test
1097. Celebratory dinners with the whole family, including grandparents!!
1098. How my brother makes me laugh
1099. Maple bars
1100. Little girls holding hands in a prayer circle