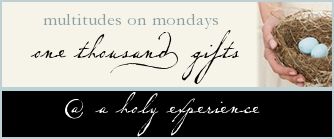 46. Shafts of morning sunlight.
47. Piles of pumpkins.
48. The rat-a-tat of rain pelting the window.
49. Those quick "I love you, Mom's."
50. Sunset clouds rimmed in fiery salmon pink.
51. The flag rippling in the breeze.
52. Gold leaves against an October blue sky.
53. Friendly service with a smile.
54. Pumpkin spice lattes.
55. Our competent and compassionate dentist.
56. Tree-lined streets.
57. The scratchy sound of skittering leaves.
58. The stars at twilight.
59. Thick, misty fog.
60.
Hundreds
of geese flying overhead (I actually pulled the car over and watched them because it was such an incredible sight!)