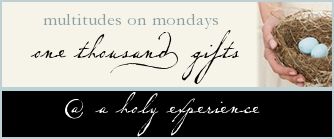 61. Telephone wire shadows looping lazily down the road.
62. That she gives names to the crows and makes up fanciful stories about them.
63. His tender heart.
64. Dust bunnies.
65. The rhythmic, rumbling purr of my cat.
66. That she so willingly shares with others.
67. Sisterhood in Christ.
68. The lavish love of my Father in heaven.
69. Surprise snow!
70. Crystalline snow resting on fire-colored leaves.
71. The sound of melting snow.
72. My husband, "Bug Slayer Extraordinaire."
73. Quotes that inspire.
74. A good night's sleep.
75. Safe flights.