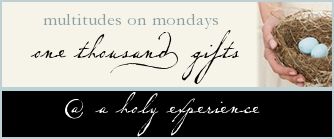 91. Strands of her golden hair dancing in the wind.
92. Watching her grow in confidence.
93. Words that stir the soul.
94. When he shares his day at school with me.
95. How she spins in circles while memorizing Scripture.
96. Hand lotion.
97. Chatting with a friend.
98. Birds on a wire.
99. An afternoon nap.
100. Blanket forts.
101. Lazy Saturday mornings.
102. Music that stirs something deep within.
103. Live Internet concert feeds that make it feel like he's with me, even when he's a thousand miles away.
104. Decorated mailboxes on country roads.
105. Quaking aspens.