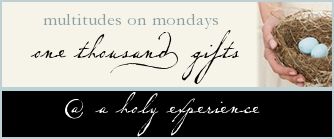 76. Ribbons of sunset colors, stretched along the horizon.
77. Windshield wipers.
78. Shrieks of delight welcoming me home.
79. Mom's apple crisp.
80. Learning new skills.
81. Honest conversations.
82. An extra hour of sleep.
83. Family jokes.
84. Seeing my children sing, "Yes, Lord!"
85. The ability to harmonize.
86. Hearing her tell the cat how cute he is 20 times a day.
87. Flannel sheets.
88. Squirrels scampering across the fence.
89. My crockpot.
90. His cheery voice on the other end of the line.